"Top Video Conference Solutions Compared – Zoom vs. Teams" provides our AVIT perspective and comprehensive review of both communication platforms.
Collaboration among your team is key to achieving great results. Now more than ever, enabling individuals to work across departments is a cornerstone of efficiency, and effectiveness. Huddle rooms, board rooms, individuals' offices and sometimes our bed rooms (for those working remotely) are the places these leading video conferencing solutions are battling for supremacy.
In this article, GBS AVIT experts compare and contrast the two market-leading video conferencing solutions.
Top Video Conference Solutions Compared – Zoom vs. Teams:
Key Zoom and MS Teams Room features
What we particularly like
Key integrations, and
Best Practice Use Tips
ZOOM – In Focus
Zoom is a simple but clever video conferencing solution that promotes collaboration through an integrated system of web conferencing, online meeting, audio/video chat, content sharing ability – now an integrated cloud-based voice solution that's optional.
Its game changing ease of use allows users to communicate quickly and efficiently from a device of their choosing, from mobile phones, to tablets, laptops, the traditional desktop computer and more. In our opinion, it is the ease of use and ability to quickly collaborate across any stakeholder and any connected device that has made its solution one of the two market-leading choices.
Zoom – What we like
Easy to Use: If you're looking for a multi-device communication tool that facilitates swift collaboration with your partners and clients, Zoom can be the answer. Ease of use is one of the key reasons that Zoom has gained widespread adoption in enterprises around the world. Zoom enables video conferencing, cloud conferencing, wireless content sharing, virtual meetings, file sharing and audio or video chat, on any device, typically with just one or two simple clicks.
Integrations: Zoom can be integrated with many other leading communications and productivity tools to improve content sharing, scheduling and starting meetings, unifying login, marketing automation, and room collaboration. Zoom software integrates seamlessly OneDrive, Google Drive, Slack, Salesforce, Outlook, Marketo, HubSpot and ironically, even Microsoft Teams. GBS AVIT engineers are proficient at optimizing software integrations that will dramatically increase system efficiencies.
Scalability: With almost endless capacity to meet your organizations growing demand. Zoom's platform is highly scalable to your needs today and tomorrow.
Compatibility: Zoom's wide adoption, and contributing to its ease of use, is the wide compatibility with all major operating systems and devices. Put simply, Zoom is highly likely to work 'out of the box' with your work devices, whether you're running Windows, Android, Chromebook, IOS or Linux, on a tablet, phone, laptop or desktop. If you're looking for a communication solution that is convenient, readily updated, quick to setup and easy to use, Zoom is hard to beat.
Wireless: Zoom Rooms are 100% wireless. With simple, beautifully-designed touch screen controls and voice command abilities, launching a Zoom Room meeting is one click away.
Zoom Summary

Zoom is a leading, multi-platform business communication tool. The modern video and voice communications platform is simple to use, easy to deploy and reliable. As an AVIXA-certified AVIT integrator, our team strongly endorses the platform along with its Zoom Rooms platform. The platform integrates voice, video conferencing, webinar/meetings with enhanced Zoom Rooms capabilities. Our certified integrators will discuss your huddle room, board room and training room needs, and design the solution that elevates your business communications. Contact GBS AVIT for a complimentary Room Design Consultation.
Teams has become an increasingly popular communication and content collaboration solution for its clients. Teams was built to span organizations of any size, most adopters have been larger, enterprise-sized businesses.

Below we take a look at MS Teams' key features to see how it compares to Zoom.
Microsoft Teams – What we like
Money Saving Microsoft Bundle: Already running Microsoft 365, then Teams is already part of the package. This bundle is likely to save your organization money over a Zoom solution and its choice of 'bolt-on' options.
Integrations: MS Teams have included a whole host of integrations to allow the platform to work well with other leading communication tools. Its core is a chat tool, with an integration of tools all-in-one place, from a 'channel', you can now easily make a video or audio call, work on files without leaving a chat, schedule a meeting or share a task with people. Other prominent tool integrations, many users will be pleased to see tools like Trello, Google Drive, and Dropbox are easily added to your chat channel in MS Teams.
Content Collaboration with Auto Backups: With MS Teams content sharing is one-click away. File storage is automatic and also one-click away. Both Zoom and Teams are leaders in making it easy to share content and collaborate with others.
Microsoft Teams Summary
Like Zoom, Microsoft Teams is a leading, multi-faceted communications and collaboration platform businesses of all sizes should consider. Teams' possible cost savings, high-profile 3rd party app integrations, one-click collaboration, and auto backup make it a very strong choice.
Our Final Thoughts
Whether Zoom or Microsoft Teams is the chosen solution, both are high-performing technologies that will serve the needs of almost any organization for the long-term. However, there a subtle differences in the execution of each. The AVIXA-certified AVIT integrators with GBS AVIT will listen and incorporate your unique needs in our design and system integrations.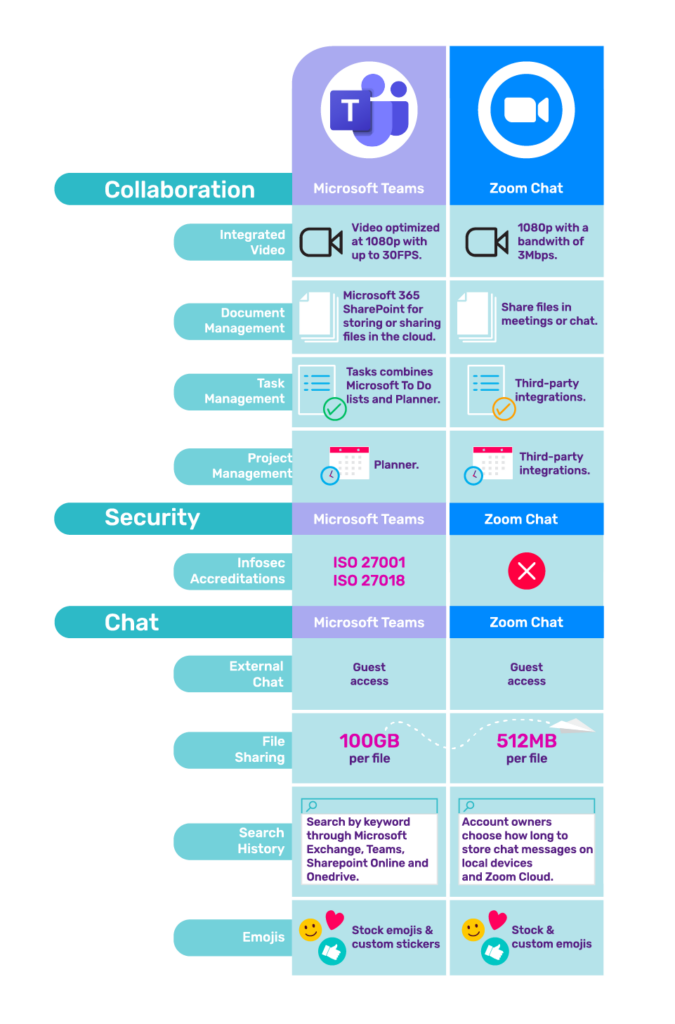 Everyday, our team designs, installs and manages the proper integration of Zoom and Teams Rooms communication platforms. It is our mission to elevate every business interaction through deploying the technologies that drive results. Call 859.491.5900 or email aperkins@gbs-inc.com.